31st May 2004 saw A2RT curate a day of art and activism in the heart of Europes' biggest shopping centre, *The Bullring*.

For a flavour of what took place check out the wonderful images taken by Immo Klink.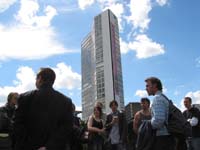 The days events started with the Misguided Architectural Tour, where 2 local designers showed the good and bad of urban design in the City Centre.
The tour consisted of about 25 people, and it quickly became a discussion of how public space is being privatised and how the lack of investment in maintaining public space results in buildings becoming clothes hangers for huge advertising hordings. The day took on an eerie edge as we entered the Bull Ring shopping complex. The calm atmosphere outside was splintered by the rise in ambient noise resulting in a sense of slight anxiety. IMAGES HERE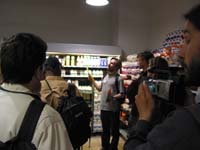 A-Z of Retail trickery.The super Space Hijackers gave a thorough and entertaining guide to the sneaky tools corporations employ to encourage us into their space, and once there , to fleece of as much hard earned cash as possible resulting in that daze like experience we feel after coming out of a shop with a bag extra and a lighter pocket.
Thanks to Robin, Arthur and Agent Malinky for "a valuable set of tools ensuring that the consumer is empowered to make informed and healthy decisions about brand and lifestyle endorsement through hard currency" TM IMAGES HERE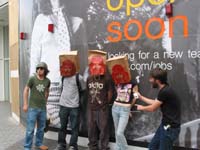 The fantastic My Dads Strip Club worked with Chris Graham to organise a game for 20-30 people to play called URBAN DECOY (a kind of catch and chase game). This game involved interaction with a brand of make-up called 'Urban Decay' sold by the High St chain store Boots. The make- up is shockingly overpriced with themes of war and deprivation…..For example they have slogans selling nail polish saying "turn your fingers into ten beautiful little soldiers" . Lipstick is sold with the slogan "make your mouth into a lethal weapon". Eye shadow called names such as; GO ARMY – OILSLICK – PLUTONIUM – STRIP - ASPHIXIA ACID RAIN - STRAY DOG - SPARE CHANGE -KIDDY POOL IMAGES HERE
For the full report go here http://www.mydadsstripclub.com/urbandecoy.htm
To watch the video go here http://www.mydadsstripclub.thevacuumcleaner.co.uk/urbanlo.html
The Vaccum Cleaner performed a superb guided tour of Brasil in Selfridges, highlighting the discrepancies in how a corporation brands a country leaving the reality far far behind. We produced our own campaign , Brasil 80"
In parallel Chris Graham did an exclusive in store performance of a piece entitled '99p profit' . Video coming soon// check out the photos from Evening entertainment for a taster.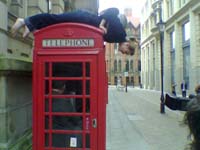 Urban Climbing with Irational.org finished off the days outdoor activities. There was a large amount of leaping, clambering and several reports of space being engaged with in an unusual and unforseen fashion leading to mental and physical regeneration.
Evening entertainment consisted of presentations by all of the above participants and some electro mayhem with Brian Duffys' Modified Toy Orchestra. IMAGES HERE