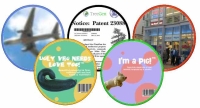 An afternoon of feral food fun investigating the connections between consumers and producers, packaging and branding. With three varieties of roots on offer, participants are encouraged to sample them all:
1>Guerrilla Gardening
A treasure hunt based around industrial Digbeth. Using a map and some handy hints participants will be able to hunt down various examples of container grown vegetables in unusual and entirely feasible locations. Bring containers, seeds and tools to add to the bounty.
2>A2RT Takes The Piss
A pithy challenge which highlights the edible and medicinal feral food found growing in the wilds of the city. We dare you to consume and identify a selection of plants, one of which may be a diuretic. During the Feral Food Olympics award ceremony find out which plant takes the piss...
3>Supermarket Sweep
Discover the true cost of the food we buy from supermarkets through interactive games and challenges, in all too familiar shopping locations. Including Ugly Veg Needs Love Too and The Real Air Miles Game. All participants will receive some seeds as thanks for their efforts and the overall winner will be awarded a prize by a very special celebrity guest at The Feral Food Olympics Award Ceremony. Information and times here soon. Supported by Fierce